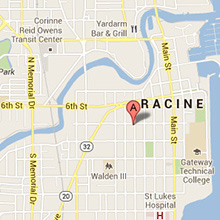 View Larger Map
Visit Us!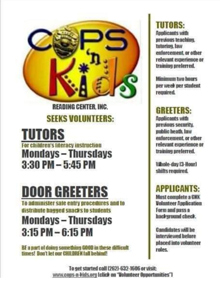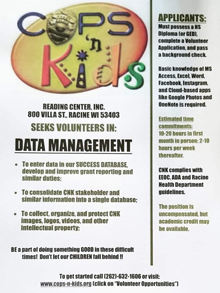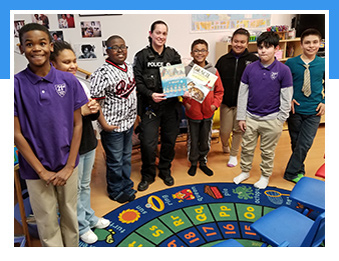 Become a Member of the Board of Directors -
Start by e-mailing a completed Volunteer Application Form to bstmartin@cops-n-kids.org. Background check required. Click Here for Volunteer Application - MS Word Doc. or Click Here for Volunteer Application - pdf

Center Programming
Children's Aide needed.

Tutor, Read or engage in activities with students after school from (check first!) 3:30-5:45pm Monday - Thursday.

Persons interested in tutoring must be over the age of 18, fill out an application and undergo a background check. Once the application is approved a child will be matched with the tutor and a schedule developed for the tutoring pair. The pair will meet once a week and follow the vacation schedule of Racine Unified School District. Tutoring is not scheduled in the summer.

Anyone interested in becoming a tutor may contact Cops 'N Kids at 632-1606 or contact the Tutor Coordinator: Cynthy McCrory at 497-4751 or email her at cynthymc@gmail.com.

Help with Events
Volunteer to help organize or engage in the activities of one of our fundraising events. If you want to organize an event on behalf of Cops 'N Kids, we are always looking for new opportunities to generate awareness in the community. Click Here for Volunteer Application - MS Word Doc. or Click Here for Volunteer Application - pdf

Advocate
Cops 'N Kids is advocates for:
- Law Enforcement Awareness
- Community Involvement
- Urban Education & Teachers
- After school programming to further education
- Poverty Advocacy

It's easy to participate in your community when you feel passionate about a cause and participating is very rewarding - even the smallest efforts can make a big difference! Here is what you can do...
Tell us and others in our community about the change you want to see to make Racine a better place for everyone.


Write to your government representatives - a Member of the State Legislature or a Representative in Congress. Each time a Representative hears about an issue, they are more likely to make action on it.


Keep up with all the latest at the Cops 'N Kids Reading Center: Join and Like us on Facebook!
Home | Events | Community | Curriculum | Donate | Volunteer | History | Founder | Contact Us