NEW Margaret Drysdale Reading Program Mon-Thurs, 10am-Noon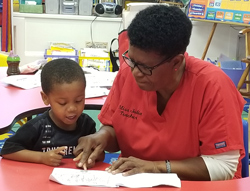 Julia Witherspoon, teacher
The Cops 'N Kids Reading Program is staffed by both current and retired Racine Unified teachers, The Prairie School teachers and many caring, capable volunteers. Our goal is to provide a positive learning environment for the children who attend.

Our classroom activities stress reading/language skills along with listening, completing assigned tasks, transitioning, cooperating, making nutritional food choices, and attending on a regular basis. It is our goal to have the children transfer these important life skills to home, respecting yourself and each other, school and community activities.

The classroom curriculum is also enhanced by community resources.

Community Police Officers visit each group of children once a month to read a book and engage children in conversation.

The Professional Women's Network for Service shares a book and activities related to the book with the three, four and five year olds. Each month a new book is presented to the children. Children are then given the book shared along with additional activities for home use. Parents are encouraged to attend the presentations.

Racine Art Guild on the Road presents an art experience for each session twice a year.

Several volunteers throughout the year focus on the arts: visual, musical and literary. Their presentations encourage children to engage in creative movement, creative use of art media and creative writing activities.

Tutoring
Children enrolled in the afterschool program at Cops 'N Kids are eligible to receive one on one tutoring if their academic progress shows a need. Referrals for tutoring can be made by parents and family members as well as the child's teachers. Report cards from the child's school are shared with the Cops 'N Kids staff to ensure that the children who need tutoring receive it.

If it is determined that tutoring would be beneficial for the child an adult is matched with the child and a day different from the one the child attends every week is set up for the tutoring session. These sessions are generally an hour in length but can be adjusted according to the needs of the student and availability of the tutor.

Fall, Winter and Spring Hours of Operation
4:00 - 6:00 p.m.

Attendance Days by Age Group
Monday - 3, 4 and 5 years by September 1st (& Potty trained)
Tuesday - First and Second Grade
Wednesday - Third and Fourth Grade
Thursday - Fifth and Sixth Grade
We are now accepting applications for the 2019-2020 school year. Our program starts Sept. 16, 2019. Our schedule follows R.U.S.D. If they have school, we have school. If they are off, we are off.
Click Here to Download an Enrollment Form in MS Word.
Click Here to Download an Enrollment Form pdf.