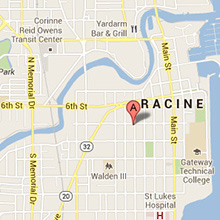 View Larger Map
Visit Us!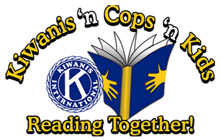 COPS 'N KIDS NEEDS YOUR HELP.
PLEASE SEE ATTACHED LINK: https://gofund.me/797e18e8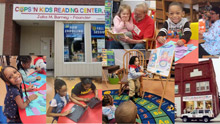 Julia Witherspoon and Joy Kueny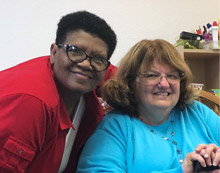 My name is Joy Kueny and I'm a retired schoolteacher. Cops 'n Kids Reading Center is an organization close to my heart. They encourage a love of reading through hands-on, fun-filled activities which improve reading skills. How great is that? But right now, they have a desperate need to repair their building because of $15,000 worth of water damage. We can help raise this money, and now is a great time to do so. Kiwanis Club of Racine has pledged $5,000 as a matching grant to the funds raised by Cops 'n Kids. Will you join me in helping a great cause?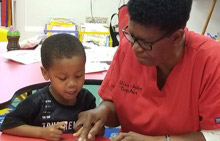 Knowing the importance of reading, and with children as her main focus, Julia Witherspoon founded Cops 'n Kids Reading Center, Inc. in 1997 in Racine, WI. There are now over 115 Cops 'N Kids Reading Centers throughout the United States as well as Australia, South Africa, Venezuela, and the Philippines.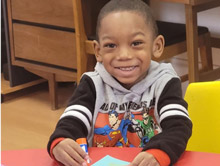 Cops 'n Kids Reading Center in Racine serves several hundreds of kids each year through programming, the Annual Holiday Book Giveaway, and with Julia Witherspoon going into the schools reading and speaking to classes and assemblies and other groups and organizations.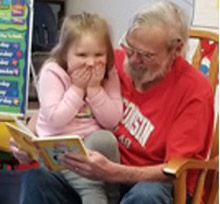 The mission statement of Cops 'n Kids is as follows: "It is the mission of Cops 'N Kids Reading Center to enable and empower all children to strive toward the fundamental successes in life - through recognition for the importance of reading." Now that's a mission statement I can stand behind.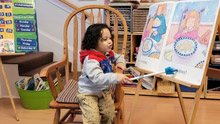 Will you join me in helping Cops 'n Kids Reading Center repair their building by donating now?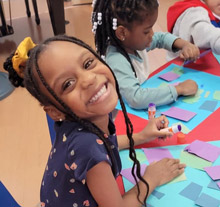 Thanking you in advance for the children of Racine.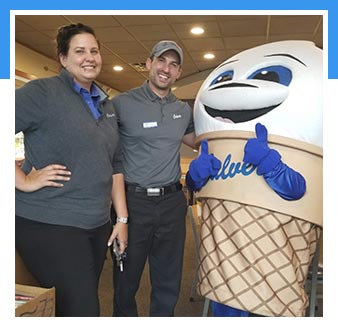 Our Dream...
To put books into the hands of Racine's children has come true. Millions of books have been distributed, but Cops 'N Kids is just the beginning of a greater vision. Julia Witherspoon has traveled extensively and helped to open over 115 Cops 'N Kids programs throughout the U.S. as well as Australia, South Africa, Venezuela and the Philippines.

Working together Cops 'N Kids, as well as other community members, can reclaim the future; a future full of reading, writing, success in school, confidence, self-respect, creativity, potential and the ability to make their own dreams come true.

Financial Donations
We are using PayPal.com's services for those of you wishing to make a cash donation. Pay Pal has over 100 million account members worldwide. They are a safe and secure company to make your donation through and they accept most credit cards including MasterCard and Visa. You can also make a donation through Pay Pal using a bank account. Just click the donation link below to make a contribution via Pay Pal.

Tax receipts are available. EIN: 39-1934034

Please donate to your favorite charity, Cops 'N Kids Reading Center, Inc. while you shop @ AmazonSmile.com
How does AmazonSmile Work?
When first visiting AmazonSmile, customers are prompted to select a charitable organization from almost one million eligible organizations. In order to browse or shop at AmazonSmile, customers must first select a charitable organization. For eligible purchases at AmazonSmile, the AmazonSmile Foundation will donate 0.5% of the purchase price to the customer's selected charitable organization.
What is the AmazonSmile Foundation?
The AmazonSmile Foundation is a 501(c)(3) private foundation created by Amazon to administer the AmazonSmile program. All donation amounts generated by the AmazonSmile Program are remitted to the AmazonSmile Foundation. In turn, the AmazonSmile Foundation donates those amounts to the charitable organizations selected by our customers. Amazon pays all expenses of the AmazonSmile Foundation; they are not deducted from the donation amounts generated by your purchases on AmazonSmile.
Forget to use Amazon Smile?
Use this browser extension (Smilematic) to always get redirect to Smile every time you use Amazon!


Donate Books and Supplies
New and gently used books and all other donations may be sent to:

Cops 'N Kids Reading Center
800 Villa Street
Racine, WI 53403

Becky St. Martin (262) 939-0107
E-mail: bstmartin@cops-n-kids.org
Some Of Our Supporters

Home | Events | Community | Curriculum | Donate | Volunteer | History | Founder | Contact Us